Later today the Montreal Canadiens face elimination against the Philadelphia Flyers. The Habs were shut out in Game 3 and 4 despite challenging Carter Hart with 52 shots in that span.
Part of Montreal's offensive crisis stems from Jonathan Drouin's continued ineffectiveness. The winger only played 27 games during the regular season (15 points) due to wrist surgery and an ankle ailment. In the playoffs, he has two points in eight games as his team's sixth-most used forward at 5v5.
Below is an assessment from analyst David St-Louis:
(I've bolded certain points for emphasis)
Jonathan Drouin has looked off in the playoffs. He follows the system, pressures the right players at the right time, but isn't carrying the puck in the offensive zone with his combination of speed and skilled hands as successfully as he should. He trails behind Jesperi Kotkaniemi and Nick Suzuki, the two young centermen he has been paired with.

The winger is no stranger to droughts. His NHL career has been a succession of peaks and valleys. He racks up points in bunches, sometimes in a single game, and then fades into the background for long stretches of the calendar. He has tried to simplify his game in an effort to still contribute when he isn't writing his name on the score-sheet, but to mixed results.

Part of the problem for Drouin is the difference between his preferred style of offence and the one imposed by the Habs system. The Saint-Agathe native needs multiple puck touches to get confident and he needs to become confident to work the defence and create. Drouin is a playmaker at heart.

But in the offensive zone, the Montreal Canadiens funnel pucks on net. They limit exchanges and rely on shots from the points and a net-front presence to score. Drouin has scored a fair bit from around the net in the past two seasons, but he lacks the tricks of a Brendan Gallagher that would make him a consistent threat in the area. Very often, #92 ends up ineffectively pivoting in place around the cage while surrounded by defenders.

To get Drouin going, instead of having him sit net-front, I would encourage his line to play more of a support style of offence, one that relies on movement, passes, and uses the width and length of the ice to create defensive breakdowns. The net-front presence can be delayed until an actual scoring chance forms. For that style to work, the Habs point-men also have to buy-in. The defencemen need to move at the top of the zone to displace the opposing defence and open passing lanes to forwards.

The first sequence in the video below is taken from last night's game against Philadelphia. Drouin defaults to the net and the puck never really gets to him. He forfeits occasions to move below the goal-line or higher in the slot to give passing options to teammates and cycle the puck. He senses it's his role to act as the presence around the cage.

The following clip is one of the better plays of Drouin in those playoffs. He manages a zone entry, falls on the back-wall, but gets up and supports the play. He doesn't head net-front to tip a shot with little chance of going in; he moves inside space, receives a pass, attracts a defender, and creates more space for a teammate to do the same. The Habs continue their cycle and score.

The last sequence is one taken from the 2016 playoffs, one of the best stretch of games of the winger since his arrival in the NHL. Once again, Drouin consistently hunts space and works the defense. He controls the offensive play. Teammates buy-in and end up creating some great chances.
David makes some great points about the need for Drouin and his linemates to use passing sequences to create space and challenge Philadelphia's defensive structure. But for me Drouin's problem start before the offensive zone.
When I rewatch all of Drouins Game 4 shifts on InStat Hockey's video platform, I count only 10 puck touches for the winger in 11:22 of time on ice at 5v5:
A rate of one puck acquired via pass reception, loose-puck retrieval or takeaway per 68 seconds of play.
One puck per 68 seconds is a terrible rate
Per Darryl Belfry, an NHL skills consultant whose pupils include Patrick Kane, Nathan MacKinnon, Auston Matthews and others, a player's effectiveness rapidly erodes if s/he is not getting enough touches.
Without a touch there cannot be an exit, an entry or a shot; without a touch an offensive player is hard-pressed to influence the game.
NaturalStatTrick.com's Game 4 report has Drouin with only one 5v5 attempt at net, while Mikael Nahabedian's manual tracking credits him with only one controlled entry on four attempts, the second-lowest production for any Habs forward aside from Paul Byron.
Darryl likes to see his players average multiple touches per shift - one puck per 30 seconds or less. Meanwhile Drouin is only getting a puck every shift and a half. Something has to give.
Here is a breakdown of Drouin's 10 touches:
Pass receptions: 3 continuation plays on 6 touches

Loose-puck retrievals: 0 continuation plays on 2 touches

Takeaways: 1 continuation play on 2 touches
As David noted earlier, Drouin's identity as a player is built upon his ability to receive passes in open space, manipulate the defensive shape with his skating and stickhandling then finding an open teammate to accentuate his side's offensive advantage.
Currently he is neither receiving an adequate quantity of pucks nor continuing enough sequences with his pass reception touches.
If Drouin is able to work himself into open space in all three zones to receive 10, 15 or 20 passes per game at 5v5, we will see his game come alive, even if nothing else changes in his conversion rate or his ability to win loose pucks and manufacture takeaways.
A final note
Hall of Famer Teemu Selanne once said that the (upper) legs give you power but the ankles give you quickness.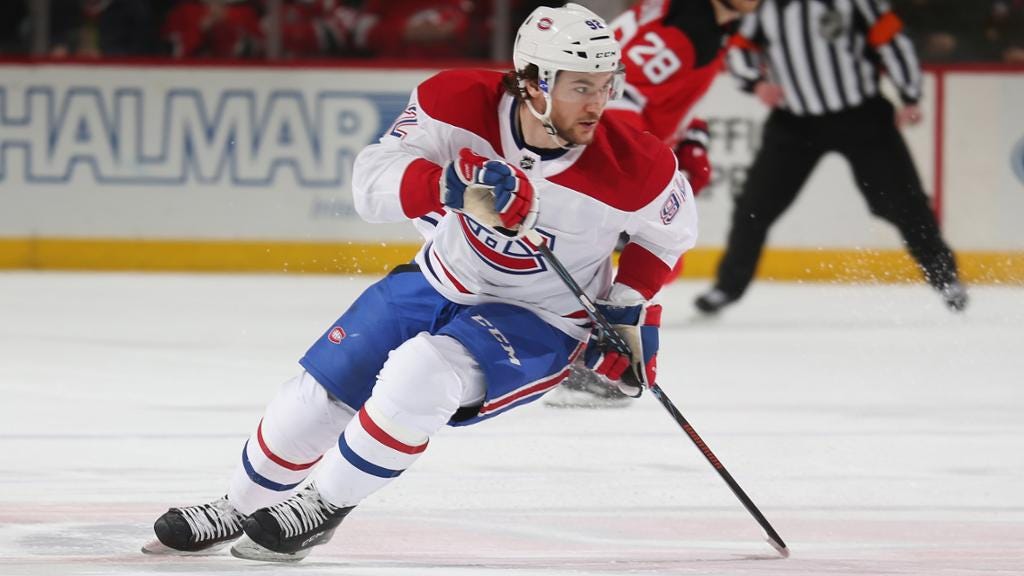 In February and March of this year Drouin missed a number of games due to an ankle injury. In my experience ankle injuries are tricky for hockey players because any restriction or weakness takes away from a player's ability to perform an explosive first step or to get into a proper puck protection posture (as I discussed in Dynamic Posture 101).
Watching Drouin's recent games, I see a player whose quickness, explosiveness and edgework no longer stand out. This results in him being late to the play, taking shortcuts and cheating in his off-puck routes and lacking poise once he does get the puck.
In this sense I am reminded of former Habs prospect Louis Leblanc, whose career was derailed by a high ankle sprain. While the Canadiens reached to take him No. 18 overall in the 2009 draft, Leblanc was an effective first-year pro in 2011-12, putting up 22 points in 31 games with excellent shot generation numbers for the Hamilton Bulldogs. After his ankle issues he never again approached even the 0.5 point per game mark in the AHL and was out of hockey four years later.
How important is posture to hockey success?
If you enjoy this newsletter and want to see more free content, consider ordering a copy of my e-book Hockey Tactics 2020, edited by a legendary journalist and illustrated by an artist whose work you have surely already seen. Eight chapters, more timely insights, more timeless principles. Get it now