Werenski's OZ Funnel
A simple movement pattern for modern defensemen
A while back Coach Greg Revak and Coach Dan Dukart of Hockey's Arsenal detailed how Zach Werenski scores goals as a D by attacking the interior of the offensive zone.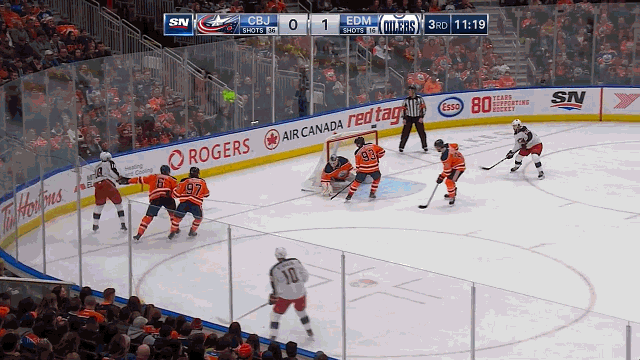 The Columbus Blue Jackets' star might be the most creative and audacious defenseman in the NHL at moving off the puck in search of scoring opportunities.
But his unusual OZ movement pattern also helps him playing better, more proactive defense.
---
The Offensive Funnel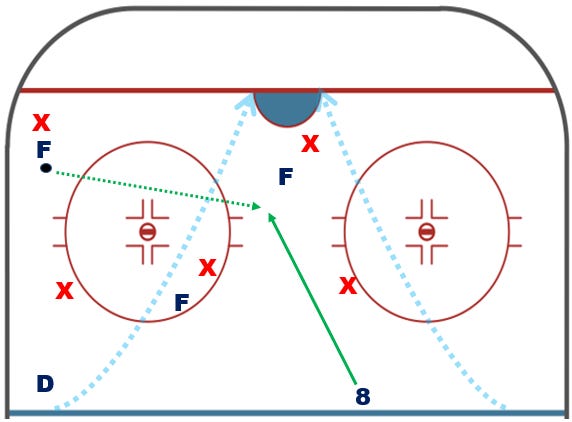 My friend and colleague Adam Nicholas pioneered the concept of Offensive Funnel, enclosed by the light blue dotted lines in the image above.
Rather than holding his ground at the point when his teammates control the puck below the hash marks, Werenski prods for space high in the Funnel, then dives down between checks (red Xs) when he senses an opportunity to receive a pass in the slot for a scoring chance.
It is very difficult for the red skaters to pick up Werenski coming down the middle of the ice, as they are likely facing the puck in five-tight DZ coverage and cannot see the defenseman sneaking down.
---
The Defensive Funnel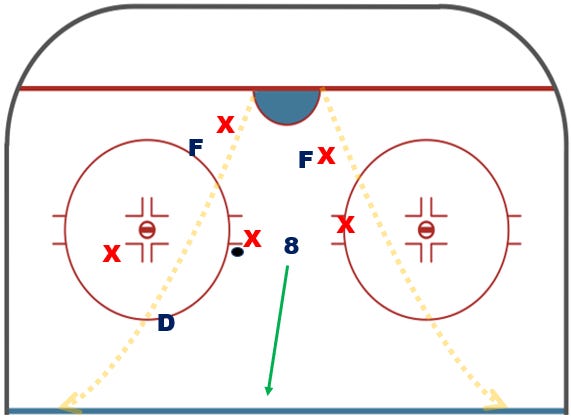 Not only is the Funnel valuable offensively, but I believe it also hold tremendous value as a defensive concept.
If Werenski's initial movement toward the net does not result in a successful play, he can reload through the middle of the ice and exit the Funnel between the light orange dotted lines.
Since the smooth-skating D-man is already facing his own net and controls the middle of the ice, he can easily identify his check (red X with puck), attach to him and force a turnover on the back check.
Making Werenski's life even easier defensively is the deep and static position of the red Fs, who have just collapsed to the slot in order to counter Werenski's Offensive Funnel attack.
---
Putting it all together
Above is a four-minute long video of Werenski's OZ movement. He is able to both create scoring chances and prevent the other team from counter-attacking by moving purposefully through the middle of the ice.
Notice how he seamlessly transfers from offensive and defensive movement. He dives through the Offensive Funnel to acquire pucks, then roll high through the Defensive Funnel to get above his check and survey the developing play.
For skilled, creative offensive Ds who want to score more goals but also play a responsible defensive game, learning how to control both Funnels is the way to do it.
---
Dear Subscriber: If you enjoy this newsletter and want to see more free content, consider ordering a copy of my e-book Hockey Tactics 2020, edited by a Hall-of-Fame journalist and illustrated by an artist whose work you have surely already seen. Six chapters, more timely insights, more timeless principles. Get It Now