Tyler Toffoli, Future Hab?
The case for the UFA winger in Montreal
In yesterday's newsletter post entitled "7 Thoughts on Free Agent Frenzy," Idriss Bouhmouch (aka TheHockeyCode)  expressed his opinion that unrestricted free agent Tyler Toffoli could be a UFA target for the Montreal Canadiens.
Not everyone on Twitter was thrilled with that assertion:
JFresh's case against Toffoli is that whichever team the right winger played for tended to massively underperform offensively.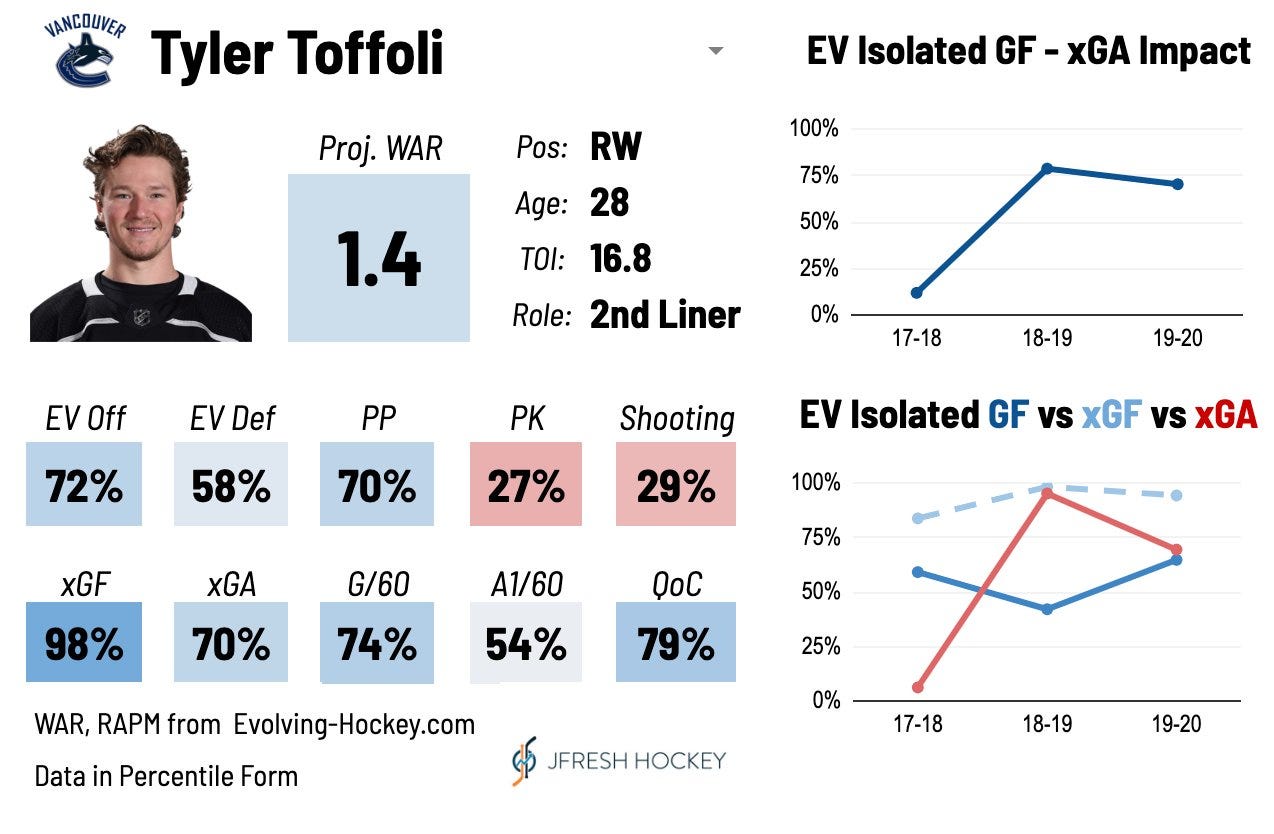 Simply put, Toffoli is one of the best players in the entire NHL at creating shots and expected goals (xG) for his team. However he is also a bottom-tier shooter and his teams are never quite able to turn all of those xGs into actual goals.
What gives?
---
The Power Law, Revisited
As I discussed in a previous article featuring Patrik Laine, accomplished NHL scorers tend to be quite predictable in how they score most of their goals.
Laine's go-to scoring area is the famous Ovi spot (left flank) on the powerplay, but he also creates a good number of looks off the rush by getting a touch on the breakout, then sprinting the middle of the ice as a breakaway threat. Conversely he is not productive from the net-front area on the powerplay, or off the forecheck and on low OZ cycles at 5v5.
Laine's unique blend of size and skill allows him to beat defenders cleanly and shoot the puck through goalies.
Toffoli's profile is somewhat different: his offensive gifts are more subtle and force him to do his scoring the hard way.
Further reading: Patrik Laine and the Power Law
---
Back to the Future
As a junior, the former Ottawa 67's star's biggest knock was his skating.
Despite producing 79 points in 65 OHL games in his draft year and clocking in as a top-five pick in Byron Bader's Hockey Prospecting model, Toffoli fell to the second round and was selected 47th overall by a savvy Kings scouting staff.
Since then Toffoli has surpassed expectations for a typical second-rounder, scoring 0.57 points per game in 525 regular-season games and 0.46 pts/game in 54 playoff contests.
However, while those scoring totals are impressive for a player who many thought could never keep up in the NHL, they would have been somewhat disappointing for lottery pick, as his pre-draft offensive production suggested.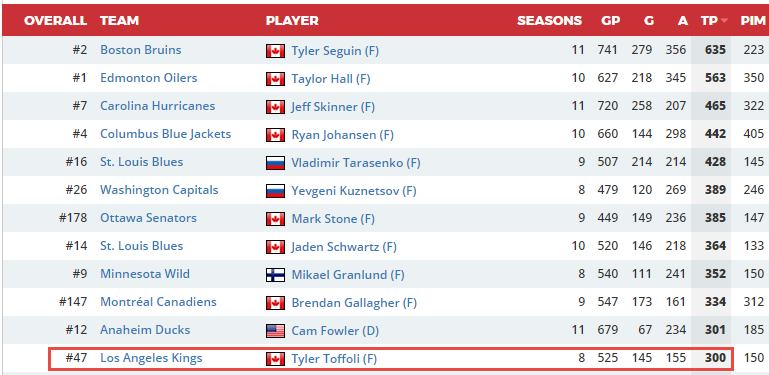 (Chart via Elite Prospects)
Toffoli is certainly a smart player with a nose for the net, but he doesn't have the speed and the skill-blend ability of a Taylor Hall, a Jeff Skinner or a Vlad Tarasenko.
These three well-rounded scorers (plus Kuznetsov, Schwartz and Granlund) do their best work carrying the puck through the neutral zone and leading the rush.
Meanwhile #73 simply does not have the movement skills to do the same. He lacks extension in his forward stride, has trouble accessing his outside edges and does not create deception with crossovers when the puck is on his stick.
Further reading: Dynamic Posture 101
---
Adaptation
Regardless of his pre-draft flaws Toffoli was still a good player; good players adjust to their circumstances.
With neither an edge in pace or physicality relative to his peers, Toffoli has become an elite NHLer at finding space and getting a shot off: more Alex DeBrincat than Hall or Tarasenko.
In his prime years in L.A., Toffoli formed a redoubtable offensive duo with Jeff Carter, making hay in secondary minutes after Anze Kopitar neutralized the opponents' best line.
Sometimes the pair (alongside Tanner Pearson on the famous That 70's Line) would play give-and-go off the rush to get Toffoli a quick-release opportunity in the slot. Other times the they would dump-and-chase, cycle the puck low while Toffoli looked for soft spots in coverage in the high slot or net-front.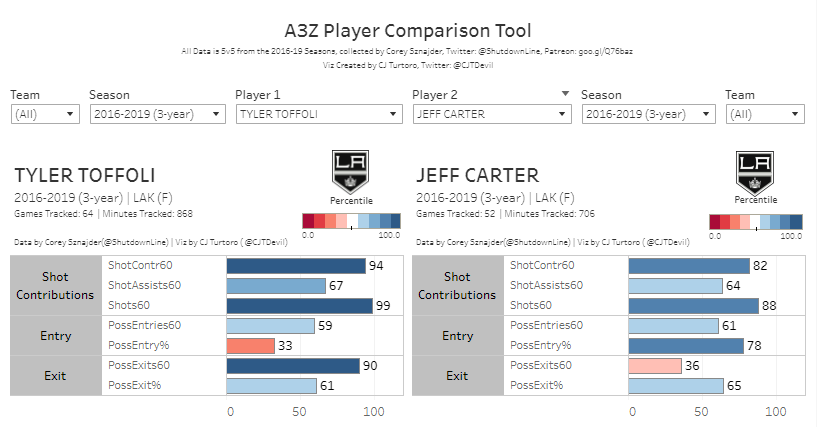 Toffoli and Carter were both shoot-and-retrieve players in the offensive zone, but for the most part it was the more agile Carter who led the way on zone entries. As #77's quality declined into his mid-30s, so did Toffoli's transitional outputs.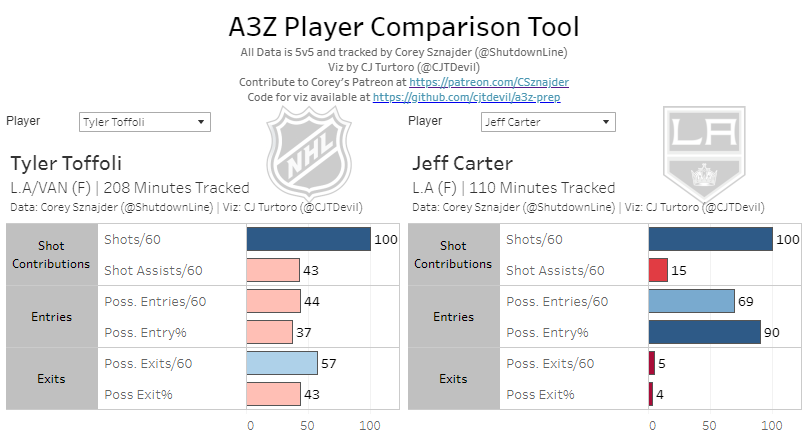 (Charts via CJ Turtoro)
---
Low & Slow
After a miserable 2018-19 season where Toffoli only scored six 5v5 goals, the 28 year old actually had a resurgent 2019-20 season from an offensive perspective.
2019-20: 24 goals
5v5 Rush: 5 goals

5v5 OZP: 11 goals

Powerplay: 5 goals

Other situations: 3 goals
Toffoli is at his best with his team set up in the offensive zone (OZP), either at even-strength or on the powerplay.
At 5v5 he can score with a quick release, by picking up rebounds or by tipping pucks from the slot area. At 5v4 he remains a excellent driver of shot volume and quality (+9% offensive threat relative to average per HockeyViz)
He has difficulty creating separation when carrying the puck off the rush and must either get behind all five opposing skaters to catch a breakaway pass, or utilize an outside-inside toe-drag move from the right wing (his only trick play) to beat an inattentive D-man.
All said, in a game where a large chunk of goals are scored off quick strikes off the rush, Toffoli's preferred offensive strategy is inefficient:
He has the instinct and functional toughness to create a large amount of contested shots between the opposing DZ coverage.
But he lacks the dynamism to out-race opponents and manufacture uncontested shots off an OZ entry.
Further reading: How MacKinnon revamped his scoring strategy
---
A New Partnership
I mentioned off the top that Toffoli could be an interesting UFA target for the Montreal Canadiens.
Indeed the Habs have one player who would make for an ideal running mate for #73: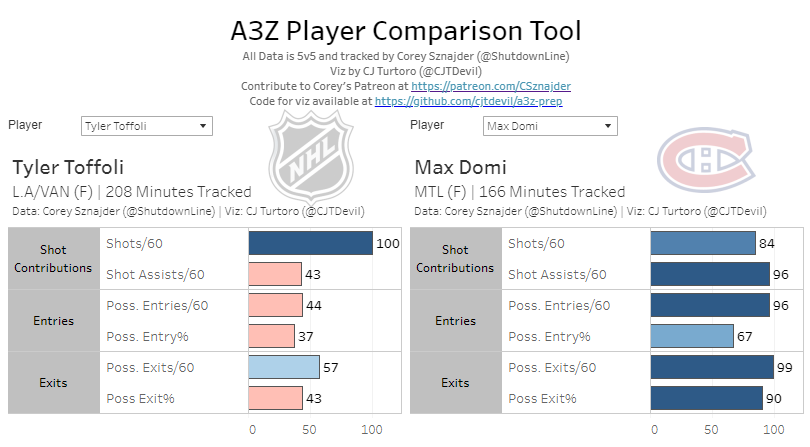 For all his faults Max Domi is one of the most dynamic transitional players in the league. He's not a great shooter, not the toughest physically and not the most reliable in his own zone, but those are all flaws that a Domi-Toffoli partnership can cover up.
Imagine the following sequence:
Toffoli recovers a puck in the defensive zone and bumps it to Domi, who is building speed along the strong-side dot lane.

Domi attacks the middle of the ice, using crossovers and head fakes to open up a seam for the third member of the line (Nick Suzuki perhaps?).

Domi and Suzuki play give-and-go at the red line, setting up a middle entry for Domi while Toffoli follows up.

Domi slides the puck over to Toffoli for a one-timer that the opposing goalie barely saves.

Suzuki is first on the retrieval below the goal line and is pinned to the wall by a D-man, but Domi helps dig the puck out.

Domi attacks the front of the net, drawing in a defender. Toffoli rolls off his check and presents his stick.

Domi feathers a pass over a defender's stick and onto Toffoli's. Goal!
Further reading: Why MTL must keep Domi
---
Why does TBL win and MTL lose? It's not just star power. 
If you enjoy this newsletter and want to see more free content, consider ordering a copy of my e-book Hockey Tactics 2020, edited by a legendary journalist and illustrated by an artist whose work you have surely already seen. Eight chapters, more timely insights, more timeless principles. Get it now