Team Identity: In Vegas centers grow on trees
The Golden Knights get more out of their centers by asking for less
Though I am not a gambling man, the Vegas Golden Knights are my 2020 Stanley Cup favorites.
As I detailed in Chapter 4 of Hockey Tactics 2020, I am a fan of Vegas' ability to control the run of play, of its depth at the goaltending position and of its ability to execute on the fundamentals.
Colleague Corey Sznajder has long been fascinated with the team's propensity for unearthing surprise contributors, especially at the center position.
His spin on the "money printer go brrr" meme pokes fun at the fact that VGK is seeming able to create value out of thin air at the most coveted position in hockey.
Indeed Columbus castaway William Karlsson's 43-goal performance in 2017-18 might've been the most shocking event in the franchise's first season.
En route to the Cup finals the team also received unexpected two-way contributions from Erik Haula, Cody Eakin and Pierre-Edouard Bellemare - hardly centers around which to build a championship contender.
All three have since left Sin City, replaced by heralded but aging playmaker Paul Stastny, rookie Nicolas Roy and Chandler Stephenson, formerly a bottom-six option for the Washington Capitals.
Yet the Golden Knights keep on rolling.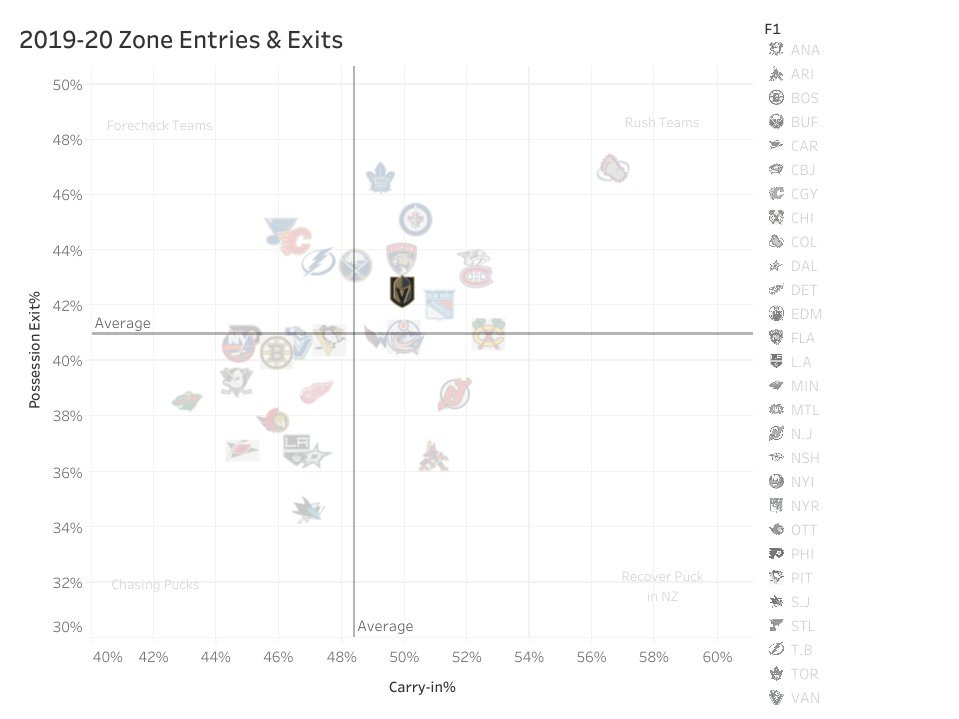 In fact this season VGK has actually improved their outputs in Corey's exit and entry tracking, moving from the upper-left quadrant (forecheck-based transition) to its current place among teams adept at creating off the rush.
Some of that success can be attributed to the arrival of star wingers Mark Stone and Max Pacioretty, but Roy and Stephenson have also shown well in Corey's tracking.
Stephenson has been a bit of a revelation when it comes to carrying the puck into the offensive zone, while the big-body Roy has shown deft touch in making short passing plays across the neutral zone. Meanwhile Stastny, the player with the best offensive track record of any Vegas pivot, lags behind his peers in his ability to move the puck up-ice.
None of this made much sense to me.
Corey suggested I check out Game 3 of VGK's series against the Chicago Blackhawks, in which the team dressed Karlsson, Roy, Stephenson and AHL veteran Patrick Brown (28 years old, 39 career NHL games) down the middle.
Posting such a lineup might've gotten you laughed out of the building this time last year, but Vegas showed that the game wasn't played on paper. Per NaturalStatTrick.com VGK controlled 56% of shots and 63% of expected goals at 5v5 en route to a 2-1 win.
Clues to Vegas' ability to punch above their weight revealed themselves to me upon reviewing the game tape.
Here's the thing: Given a base level of skill and speed, it is remarkably easy to play center in Vegas' system.
I previously discussed the importance of puck acquisition in determining a player's effectiveness, using Jonathan Drouin as an example.
Vegas' centers have three key locations from which to receive passes from their wingers and defensemen:
1) On the breakout: Strong-side dot lane
2) On OZ entries: Strong-side dot lane
3) On NZ regroups: Middle of the ice near the Ds
That's it!
If a center reports to those areas with any semblance of speed and composure, he will get the puck from a teammate. By NHL standards it takes relatively little talent to simply land on a spot at roughly the correct moment.
VGK's personnel (fast & skilled wingers, active Ds) and system (heavily biased toward strong-side transitions) make the C's job even easier:
Report to a spot

Get a puck

Move the puck to someone else

Look for the next play
The aforementioned Brown scored Game 3's winning goal by doing his job and letting his teammate do theirs.
Off a retrieval Vegas' strong-side D moves the puck up the wall to left winger William Carrier (VGK28). Brown (VGK38) supports the play on the strong-side dot lane with speed and gets a bump pass from Carrier.
Brown makes a quick dribble to avoid a poke check, then makes a five-foot pass to right winger Alex Tuch (VGK89).
Tuch's speed carries him past Brown's check and he has a 2v1 with weak-side D Nate Schmidt (VGK88) speeding toward the back post.
They play give-and-go and Tuch one-times a shot that is stopped by the Chicago netminder.
The rebound trickles out to Brown, who is finishing his route to the top of the crease. The journeyman pro cannot believe his fortune and taps the puck into an empty net.
In summary: Vegas Center machine go brrr, to the chagrin of opposing players, coaches and capologists.
Want more unique analysis of team and player attributes?
If you enjoy this newsletter and want to see more free content, consider ordering a copy of my e-book Hockey Tactics 2020, edited by a legendary journalist and illustrated by an artist whose work you have surely already seen. Eight chapters, more timely insights, more timeless principles. Get it now