Recreating The Russian 5
Looking to the past for the future of hockey
Revisiting Brodie
Several newsletter subscribers messaged me after reading yesterday's T.J. Brodie video breakdown and wondered why more NHL didn't deploy left-handed defensemen on their off-sides in order to maximize their ice time or to unite them with complementary partners.
One madlad even suggested the possibility of the Leafs trading for right-handed MacKenzie Weegar, who plays left defense alongside Aaron Ekblad with the Florida Panthers, and pairing him in a all-offhand duo with Brodie.
NHL teams bend over backwards to dress an equal numbers of LHDs and RHDs, so that everyone can play on their strong sides, able to easily pick pucks off the board and go D-to-D.
Now people are arguing for the exact opposite.
After troll science memes, are we entering troll hockey tactics territory?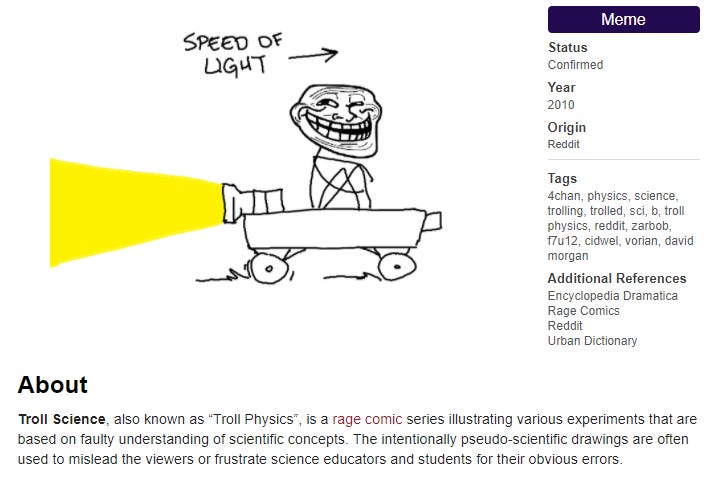 ---
What you didn't know about Soviet hockey
As a subscriber to the Hockey Arsenal newsletter, I was one of the first to read their most recent article entitled "Be The Ball."
In the article hockey coaches Greg Revak and Dan Dukart argue that imperfection (the dimples on a golf ball which allow it to fly farther) and adversity (myriad mistakes made on the road to greatness) are what allow aspiring athletes to grow and evolve.
So is the story of Soviet hockey.
Long story short the USSR only began playing the sport after World War Two, as a political ploy to win international events and bring prestige to the Communist government.
Head coach Anatoly Tarasov started a national team essentially from scratch. To fill the roster he mined the national talent pool and looked for multi-sport athletes: Vsevolod Bobrov, the first Soviet hockey star, was also a national-team soccer and bandy (field hockey on ice) player.
Like the rest of the nation, decimated after the catastrophe of WWII, Tarasov's program was defined as much by what it had (not much) than what it didn't (many things):
Players seldom practiced slap shots because of the poor quality of Soviet-built sticks, which were heavy and prone to breakage.

The problem was only solved for elite players much later on when the country began importing top-quality (and expensive) KOHO sticks from Finland.

Emphasis was placed on passing and collective offensive play, as pre-shot movement allowed the Soviets to score without shooting very hard and complex build-up plays helped them outplay individually stronger and more experienced North American and Scandinavian players.

Tarasov was fascinated by Bobby Hull. In the coach's estimation no Soviet player could hope to beat "The Golden Jet" one on one. But pit five Red Army players against five Hulls, and the Soviet would find a way to use passing plays and clever offensive movement to defeat five superior individuals playing for themselves.

Nearly everyone had to play on their off-sides. Most Soviet players were taught to play left-handed, with their dominant right hand on the top of the stick to facilitate stick-handing.

Not only did most Soviet RWs and RDs have to play on their "weak" sides, but their LWs and LDs also frequently found themselves on the opposite side of the rink after a rush or an offensive-zone sequence.

In a country with still relatively few players, coaches such as Tarasov could not afford to succumb to handedness fetish. So he and his team found ways to compensate: techniques and tactics which can turn a natural disadvantage into a competitive edge.

Like dimples on a golf ball.
---
The Green Line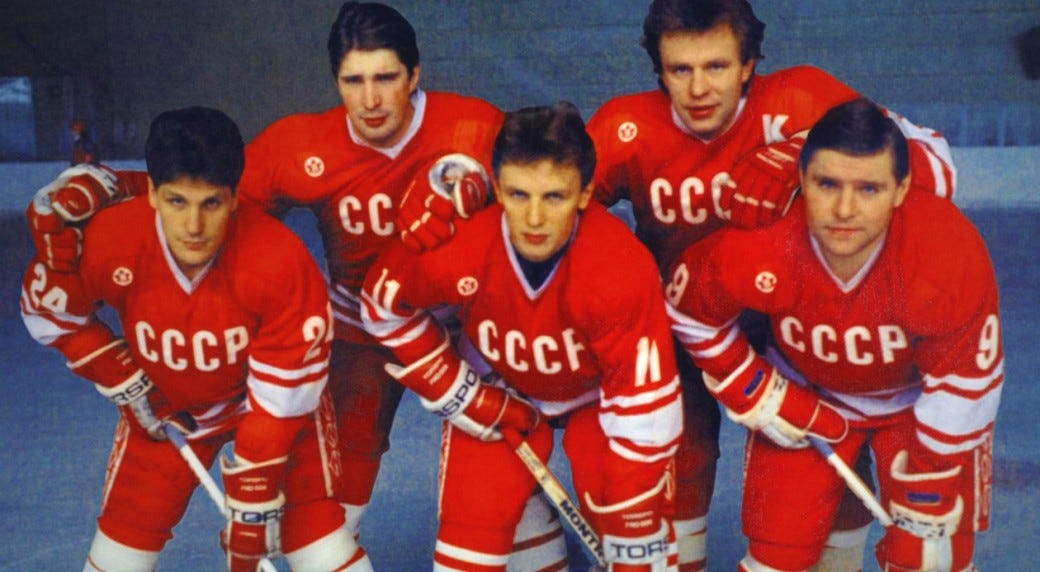 (Image from the film Red Army)
Sergei Makarov, winger.
Alexei Kasatonov, defense.
Igor Larionov, center.
Slava Fetisov, defense.
Vladimir Krutov, winger.
Internally they were called the Greens because of the color of their practice jerseys.
Internationally they were the most accomplished five-man unit in hockey history.
All were left-handed.
The unit's sublime puck movement is perhaps a direct result of their handedness "problem."
All five players must constantly be on the move to get the puck off the wall, away from their backhand side and into the middle of the ice.
On quick passing plays there was no need to think about where to send the pass. For a lefty skating to one's left, you pass in front of their feet for a forehand catch. If he is skating to your right, pass into his feet or slightly behind him for a one-timer.
Soviet coaches didn't see the need to bring in any right-handers in the name of balance. The Greens worked best together and they left it at that, thankfully.
---
The Russian Five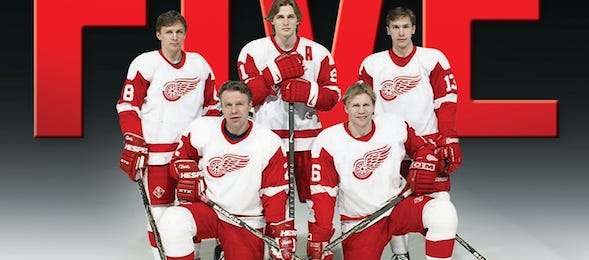 (Image via The Russian Five)
Over a decade later Scotty Bowman, head coach of the Detroit Red Wings, rediscovered the unique Soviet style by combining all five of his Soviet-trained players.
Larionov and Fetisov, the originals, were joined by elite two-way center Sergei Fedorov, dazzling winger Slava Kozlov and hard-nosed defenseman Vlad Konstantinov.
Four lefties; one righty (Konstatinov).
In the midst of the dead puck era NHL teams were content to station their defensemen at the point and have them blast long-range shots in the general direction of the net.
For their part Fetisov and Konstantinov played like rovers in all three zones, jumping into the rush out of the DZ, carrying up the middle in the NZ and sneaking in behind opposing defenders in the OZ.
Interestingly their preference for attacking the off-wing did not disappear.
When given a choice Konstantinov would make for the left point while Fetisov went right.
Molded by the Soviet system, the pair overcame the discomfort of playing defense on their off-side and made it part of their DNA.
When will we see this again?
---
Learn about what drives results for the game's top players
If you enjoy this newsletter and want to see more free content, consider ordering a copy of my e-book Hockey Tactics 2020, edited by a legendary journalist and illustrated by an artist whose work you have surely already seen. Eight chapters, more timely insights, more timeless principles. Get it now