Patrik Laine & The Power Law
The invisible hand governing how goalscorers do their deed
According to TSN, Winnipeg Jets winger Patrik Laine may be on the trade block:
The Finn is one of the best goalscorers in the world, but what his 6'5" frame provides in reach and power takes away in ability to change speed and direction.
When he is not shooting the puck in the net, Laine is a big target for opposing defenders and critics alike.
While Laine's ability to put up points at both even-strength and on the powerplay is elite, he does not "drive play" by positively influencing shot volume. Defensively he is one of the leakiest player in the league. His tendency to float in open ice rather than engage physically means that he also seldom draws penalties.
Is Laine one of the best offensive creators in the NHL, or a passenger who's had the good fortune of riding shotgun with the likes of Blake Wheeler, Mark Scheifele and Nik Ehlers throughout the years?
Friend of the newsletter JFresh has a post coming out soon discussing just that topic.
Meanwhile let's talk about baseball.
---
Ted Williams, Goal-Scorer
Former L.A. Angels pitching coach Tanner Reklaitis wrote an article called 5 Ways the Power Law Shapes Sports on his website.
One of the examples he cites is that of Ted Williams, the last person to hit .400 in a MLB season.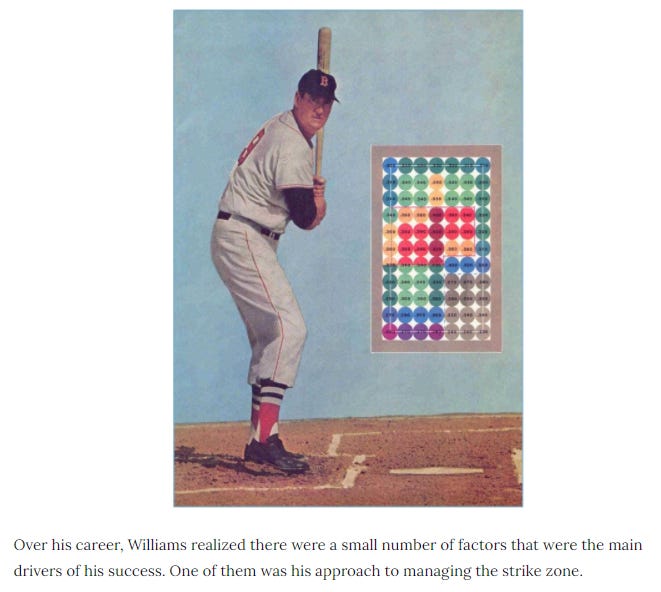 "My first rule of hitting was to get a good ball to hit. I learned down to percentage points where those good balls were. The box shows my particular preferences, from what I considered to be my "happy zone"–where I could hit .400 or better–to the low outside corner–where the most I could hope to bat was .230. Only when the situation demands it should a hitter go for the low-percentage pitch."

- Ted Williams
The Hall of Famer managed his hitting like a successful business - with the understanding that most positive outcomes are driven by a relatively small number of inputs.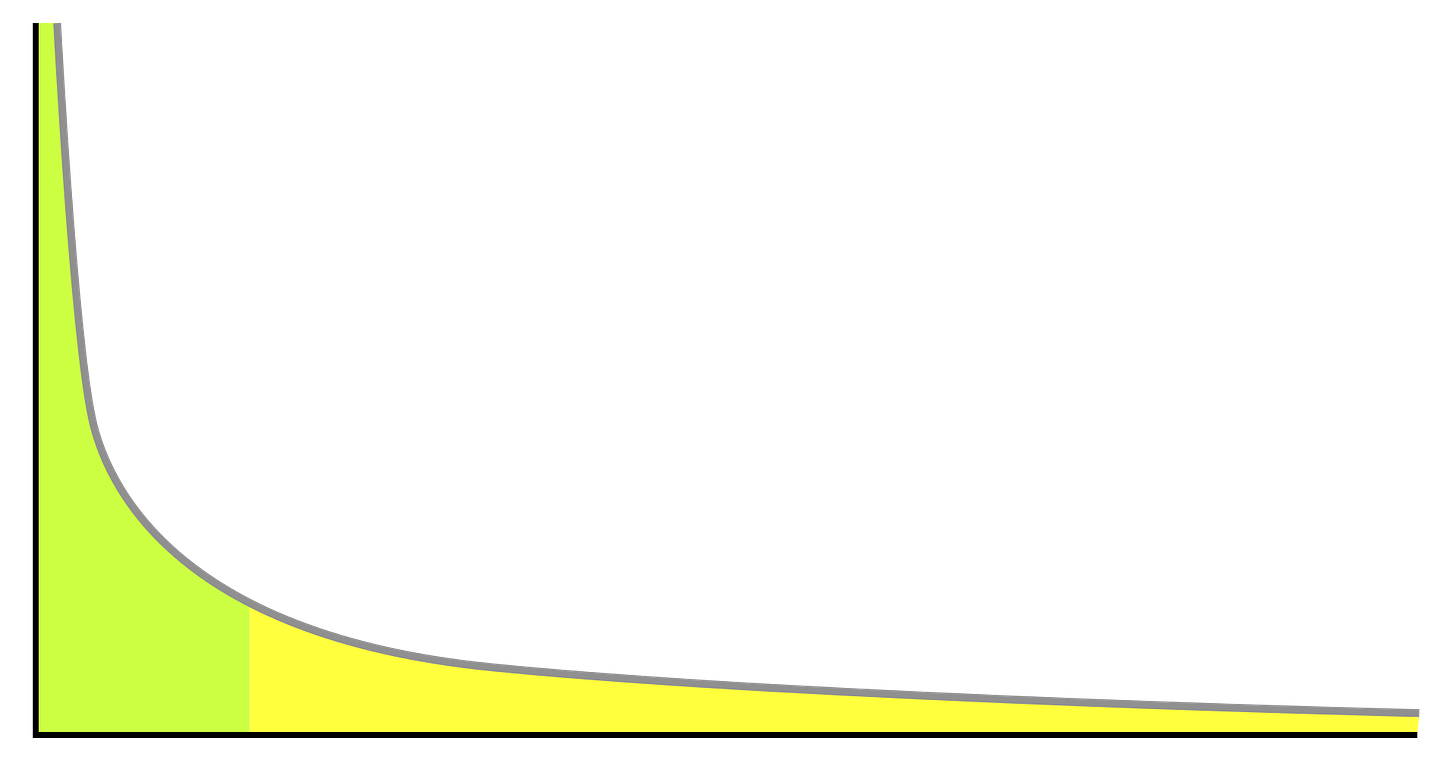 The graphic above (via wikipedia's entry on Power law) illustrates Williams' approach.
Instead of chasing the yellow long tail of low-percentage pitches (anything high and in, or low and away), Williams waits for balls in his wheelhouse that he can hit hard and hit often.
In this sense batting home runs and scoring hockey goals are the exact same thing:
Elite scorers use a small number of highly-effective plays repeatedly to achieve extraordinary production.
---
Laine's Go-To Patterns
This week I rewatched every one of Laine's 146 career NHL goals.
Below is a breakdown of how they were scored:
2016-17 - 36 goals
PP Left Flank: 8 goals

PP Other: 1 goal

5v5 Rush: 10 goals

5v5 Other: 11 goals

ENG/4v4/3v3: 6 goals
In his rookie season Laine establishes himself as one of the best one-time shooters in the league. Stealing a page from Alex Ovechkin's playbook, he parks himself at the left faceoff dot and wait for Wheeler (right flank) or Dustin Byfuglien (center point) to feather passes into his wheelhouse on the man advantage (8 goals).
At even-strength the 6'5" colossus shows a surprisingly deft touch off the rush. He occasionally dangles around defenders to score highlight-reel goals, but more often puts himself in a situation to catch-and-shoot a wrister or snap a one-timer shot off the rush (10 goals).
Once WPG sets up in the offensive zone, Laine does not go to the front of the net for tips and rebounds. Instead he meanders around the OZ without the puck, waiting for a linemate to find a seam to the left flank or in the high slot. Then he pounces to score with a quick release (11 goals).
2017-18 - 44 goals (+5 playoff goals)
PP Left Flank: 20 goals

PP Other: 3 goals

5v5 Rush: 11 goals

5v5 Other: 12 goals

ENG/4v4/3v3: 3 goals
Sophomore year Laine converts at a career-best 18.3% clip. This extraordinary shooting percentage is fueled by 20 goals from the Ovi spot, but only three from elsewhere in the PP formation. At 5v5 Laine continues to be a dangerous option both off the rush and in-zone.
2018-19 - 30 goals (+3 playoff goals)
PP Left Flank: 15 goals

PP Other: 2 goals

5v5 Rush: 6 goals

5v5 Other: 8 goals

ENG/4v4/3v3: 2 goals
Laine scores on 12.2% of his shots, a high but not otherworldly rate. As a result his goal-scoring is down in all situations.
2019-20 - 28 goals
PP Left Flank: 7 goals

PP Other: 2 goals

5v5 Rush: 10 goals

5v5 Other: 5 goals

ENG/4v4/3v3: 4 goals
Laine actually has a bit of a bounce-back campaign in his 5v5 rush scoring. However that progress is undone by his PP left flank and 5v5 offensive-zone scoring, which crater to career-worse levels.
---
Who's to Blame?
Despite being deficient in many (if not most) facets of the game, Laine's main asset - his scoring touch - does not appear to have deserted him.
Indeed his production is down mostly in situations where he requires others to get the puck to him - off the pass in the OZ and on the powerplay.
His current situation appears quite logical when we take a step back and look at the team around him.
Winnipeg's ability to control play at 5v5 has gradually worsened in the past three years, culminating in a 2019-20 season where Connor Hellebuyck had to stand on his head almost every night to give the Jets a chance to win.
Scheifele, Ehlers and Kyle Connor are already in their prime.
Wheeler and Mathieu Perrault are getting older.
Bryan Little is always hurt.
Jacob Trouba and Byfuglien are gone.
The core of the team is essentially aging out of its window of opportunity.
For a player as reliant on getting quality passes from his teammates as Laine, this situation is untenable. As the floor crumbles around him in Winnipeg, he's bound to fall through sooner rather than later.
---
What's Next?
If the Jets do in fact move on from the Finn, it'll be for a handsome haul; both Laine and his new team will be under great pressure to live up to the deal.
Laine's future coach will no doubt be thinking about what he can do to "fix" the player.
I urge against it.
Invert, always invert!

- Charlie Munger (investor, vice-chairman of Berkshire Hathaway)
Instead here is a list of all the things he should not be doing:
Change Laine's positioning on the powerplay

Tell Laine to dump & forecheck at 5v5

Force Laine to stand at the net in OZ play (rather than acting as a rover looking for seams and open space)

Stress out about Laine's defensive positioning or effort
To help Laine re-establish his Power law scoring I might put him with two strong transition players who like playing in space and creating passing combinations. MacKinnon-Landeskog, Barzal-Eberle, Danault-Gallagher, so on and so forth.
Quick first touch in the defensive zone to a linemate with speed

Push out into the neutral zone to create space

Find the weak side on the offensive-zone entry for a one-timer or a catch-and-shoot
I'd prioritize finding him some right-handed partners while I'm at it - he's had the most success with Wheeler, Scheifele and Byfuglien because of the passing geometry.
As long as Laine is able to consistently get the puck in transition with his feet in motion, quality entry plays will result.
In the offensive zone let him sniff out soft spots in coverage down the funnel or on his off-wing and keep him stapled to the left flank on the PP. Most likely he'll be back to scoring 35-40 a year for the foreseeable future.
Why would Laine be a good fit next to MacKinnon, Bazal or even Danault? 
If you enjoy this newsletter and want to see more free content, consider ordering a copy of my e-book Hockey Tactics 2020, edited by a legendary journalist and illustrated by an artist whose work you have surely already seen. Eight chapters, more timely insights, more timeless principles. Get it now