Mattias Norlinder: Details Make the Man
The subtleties in the defenseman's game are a sight to behold
"What do I have to do to improve my game?" The young man asked the interviewer.

Truth be told his interview had not been going well at all. While he showed up on time and was smartly dressed (suit, no tie), his overall demeanor was aloof.

A space cadet.

Refusing eye contact, he awkwardly held a Styrofoam coffee cup to his month and spoke through it when engaged by the scouts sitting in the room.

It was as if he didn't really want to be there.

The interviewer had been growing impatient with the young man's affected airs. This was the final straw.

"Why don't you ask (your D-partner on your club team). Maybe he could tell you a few things. He played a long time in the NHL," the analyst snapped back as the interview wound down.
The place was a suite overlooking the ice surface at the KeyBank Center, home of the Buffalo Sabres.
The occasion was the 2019 NHL Draft Combine, held in early June.
The young man was Mattias Norlinder, a second-year eligible defenseman playing for MoDo of HockeyAllsvenkan (a rung below the SHL).
And the interviewer…was me.
---
My momentary loss of composure belied my high opinion of Norlinder. Above all else he was the player I was most looking forward to meeting that day.
In the Spring of 2019 I was assigned to study the Swede's game. In his 19-year-old season he was just okay in the Swedish U20 league, but had essentially come out of nowhere to form one of the best D-pairs in the Allsvenskan alongside former NHL standout Toby Enstrom.
After tracking microstats and reviewing my notes, it occurred to me that it wasn't the veteran Enstrom who was carrying the rookie Norlinder, but the other way around.
Norlinder was more active on exits, made more plays in transition, created more OZ shots and did a better job snuffing out opposition rushes. Together, the pair drove play in dominant fashion.
At the draft in Vancouver, the NHL organization I worked for ended up picking Nick Robertson, an excellent choice at 53rd overall. This allowed Norlinder to fall to 64th, where he was snapped up by the Montreal Canadiens.
As we see in the chart below created by Byron Bader, Norlinder has overcome a slow start to his junior career and is already tracking better than Philip Broberg, the top Swedish defenseman selected in 2019 (8th overall).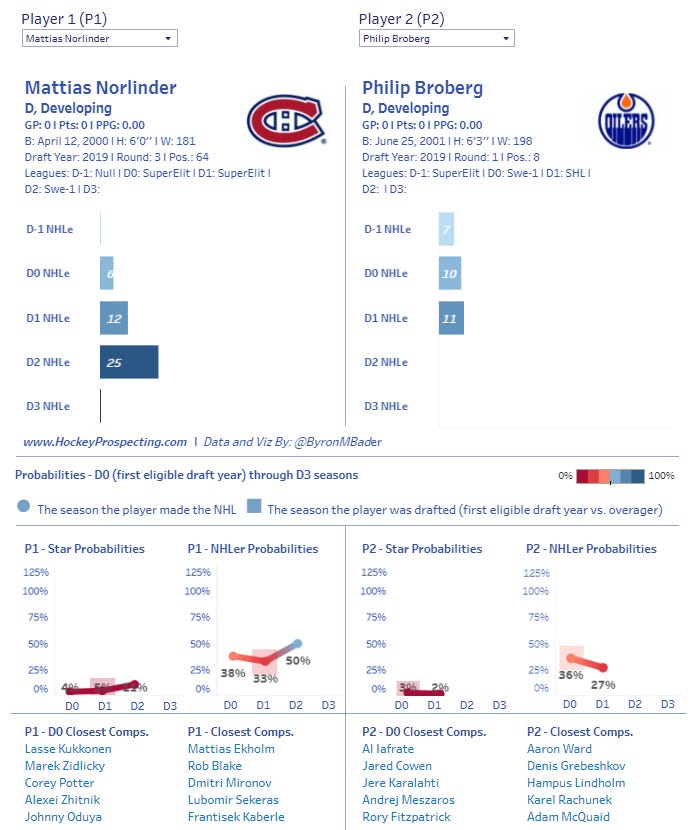 ---
On August 27 Norlinder scored three goals in a Frolunda HC pre-season game against SHL foe Malmo.
I watched each of his shifts (number 6 in red) on InStat Hockey and saw a lot of the same things which made him such an exciting player in the Swedish second league a year ago.
Moreover, these same details set great NHLers apart from merely average ones:
Detail 1: Shoulder-checks
Norlinder is quick and technically sound, but what allows him to outplay bigger, stronger and more experienced rivals is the speed at which he can take in information as the play evolves.
The frequency and quality of a D-man's shoulder checks allow him/her to make the correct decisions ahead of time, then focus on execution later.
It's the proverbial toolbox which house the tools. Some players have it (Doughty, Spurgeon, Fox) and others don't (J. Johnson, Bogosian, Ceci).
Detail 2: Defensive spacing
In 1v1 or 2v2 situations Norlinder is a fairly conservative defender, content to use his efficient skating technique to take on the rush skating backward. He extends his stick to appear bigger than he is (5'10", 179lb per hockeydb) and looks to buy time for his forwards to track back.
However as soon as he identifies a 2v1 situation (great software), he is able to shift his weight onto his inside leg and take one big push to step up on the puck carrier (good hardware). Norlinder has the ability to go from dot-lane to the wall in a single bound, before the opposing player can get organized and make a play.
Detail 3: Under-handling
With the puck on his stick, the synergy between Norlinder's mind and body once again allows him to make quick, efficient plays.
Because of his anticipatory abilities, he is able to get his feet set early and make his first touch inside of a weight shift or a pivot, rather than having to stop, catch the puck, and get going again.
This means that he is more often than not in a position to pass or shoot right off his first touch, without "dusting the puck off."
Underhandling allows him to advance the puck quickly and precisely to his forwards - the easiest way for a D-man to create offense against pro-grade defensive systems.
---
Super-scout Corey Pronman's pointed question is a good one. Which is why I suggest a wager. Regardless of the outcome, money is just money.
A part of me certainly hopes that Norlinder can prove me right in the coming years. But most of all I am looking forward to seeing this talented young man make the most of his immense potential, wherever his career leads him.
Want more unique analysis of unique player attributes? 
If you enjoy this newsletter and want to see more free content, consider ordering a copy of my e-book Hockey Tactics 2020, edited by a legendary journalist and illustrated by an artist whose work you have surely already seen. Eight chapters, more timely insights, more timeless principles. Get it now